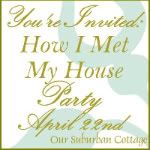 We met over the internet, after a failed first relationship, and many one-time dates.
Upon moving to the southwest we found a house we liked, in an area we liked, and made an offer. It wasn't meant to be. Our offer came in just shy of another offer being accepted.
We plunked down some money and bought a house in town. (Long story…big mistake...lesson learned.) We lived in that house knowing it would be temporary, knowing that we wanted to get out of town and find a house in a rural area. We cheated on that house, but it knew we would. We didn't love it. It was a doomed relationship from the start. And we're still dealing with the failed relationship. Sad, but true. (We're still trying to sell it after renting it for 2 years.)
We had our "wish list" for a house and looked at many, many, many houses. Houses under our price range and houses over our price range. We even looked at plots of land in which to build when we couldn't find "THE ONE."
Our wish list included:
At least a two-car garage, more would be better
Open floor plan
Preferably all bedrooms on the same floor
A laundry room with a coat closet
Storage (basements are rare here)
An entry with a coat closet
At least three bedrooms and two baths
Space to play outdoors
In a rural area, yet a close drive to town
We met the house on the internet, told our realtor, and set up the first date. The house was still being built at the time and didn't look like much. Some time passed and we decided to set up a second date and then a third. We were smitten then. We made a proposal and it was accepted after the usual offer and counter offers. The house was almost finished when we proposed, dressed in its wedding best. We got to pick out the carpet; the contractor and his wife picked everything else out. My hubby said it was the best way to build a house.
It was a joyous day when we got to come into the house on the first day of it being our very own. McDonald's on the floor!
The house is not perfect, but we love it. It's now home. We've discovered little quirks and imperfections that we didn't notice upon our initial crush. We have water that smells like rotten eggs, the stucco is now falling off the house, the wall has cracks, and other things. But we still love our home, quirks and all. We're very blessed to have this house, but most of all….we're happy to have a place to call home that we can raise our kids in. We'd be happy if that was even a tent. A home is where the love is!
First Time Entering Our New Home
How close did we come to our wish list?
Two car attached garage. Plus we put in a storage shed. Hubby dreams of a pole barn.
Open floor plan
Single story house
Laundry room with a coat closet
Storage – lots of cabinets, pantry, huge master closet, and double closets in the other bedrooms
Entry with two coat closets
Three bedrooms and two bathrooms
2 acres to run around in (with a super steep driveway, lots of dirt, and some cactus)
Rural area, yet only 12 minutes to town (hubby can still bike to work)
Sometimes the right place is worth the wait. And no matter where you live or what you live in, you can still make it a home. There's no place like home!
How did you meet your house?